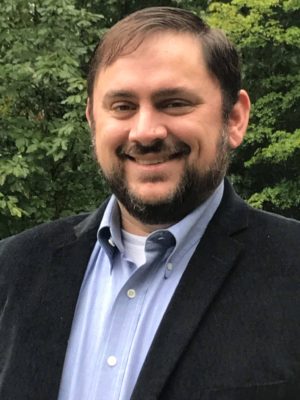 Rev. Dr. J. Adam Tyler, Senior Pastor
We welcomed Rev. Dr. J. Adam Tyler to Farmville Baptist Church as our Senior Pastor in November 2021. Pastor Adam leads Farmville Baptist in ministry with his passionate faith, his heart for missions, his commitment to discipleship, and his love for the congregation and community.
Adam received his Doctor of Ministry degree from Palmer Theological Seminary, his Master's of Divinity degree from Baptist Theological Seminary at Richmond, and his Bachelor of Arts (History) degree from Virginia Tech
Adam is a southside Virginia native, and began his pastoral ministry serving at Mt. Zion Baptist Church from 2005 to 2009. He served as Senior Pastor at Grace Hills Baptist Church from 2009 to 2021. During 2016 Adam served as county chair for the community's tornado recovery efforts. From 2019 to 2021 he served as the president of the BGAV, and is now serving as the chair of the search committee for their next Executive Director. He also currently serves as relief chaplain for Centra Southside Community Hospital. 
Adam and his wife, Cadance, met in 2009.  In 2011 they were married and have welcomed two beautiful children into their family, Jonathan in March 2015 and Phoebe in July 2019. 
Outside of ministry, Pastor Adam loves spending time with family and friends. He is a voracious reader, and often finds inspiration and solace in the words of his favorite author, J.R.R. Tolkien, who reminds us to "use well the days" – a good reminder to us all!
Contact Pastor Adam by email at pastor@farmvillebaptist.org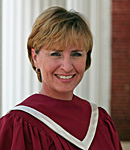 Sandy Yeatts, Choir Director
Sandy is a native of Farmville.  She earned her Bachelor of Music Education degree in 1992 and her Master of Science degree in 1997, both from Longwood College.  Before coming to FBC, Sandy served as Choir Director at Spring Creek Baptist Church in Darlington Heights, VA. She has been the director at FBC from 2003 to 2005 and from 2010 to present. She is currently employed by Hampden-Sydney College as the Executive Assistant to the VP for Business Affairs and Finance. She and her husband, Kim, joined FBC in November 1997, and live near Hampden-Sydney. Her hobbies include golfing, gardening, quilting, and reading.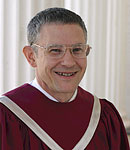 Dr. B. McRae Amoss, Jr., Organist
A native of Georgia, Mc Amoss first remembers becoming fascinated with church organs around the age of six. A church musician since the age of 13, when he became the accompanist for his church's children's choir, he later became the church's pianist and then its organist. He came to the University of Virginia to do graduate study in French language and literature. He completed his Ph.D. in 1990 and in 1991 joined the faculty of Longwood University, where he was a professor of French until his retirement in 2022. He became the organist of Farmville Baptist in 1992.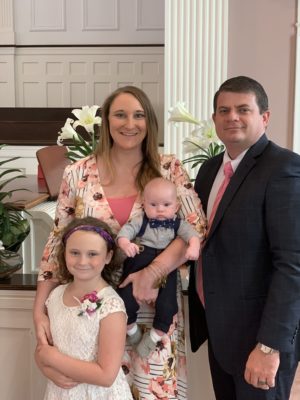 Kat Taney, Office Administrator
Kat and her family relocated to Southside Virginia from South Florida in January of 2014. Prior to working at Farmville Baptist she has worked for other community businesses, including Wells Fargo and Century 21 Realty @ Home (formerly Real Living Cornerstone). Kat and her husband, Ryan, have been married since 2011, have 2 children, and reside in Meherrin. They enjoy participating in our church and community events, as well as hosting cook-outs and gatherings at their home.
You can reach Kat in our church office at (434)392-5041 or office@farmvillebaptist.org